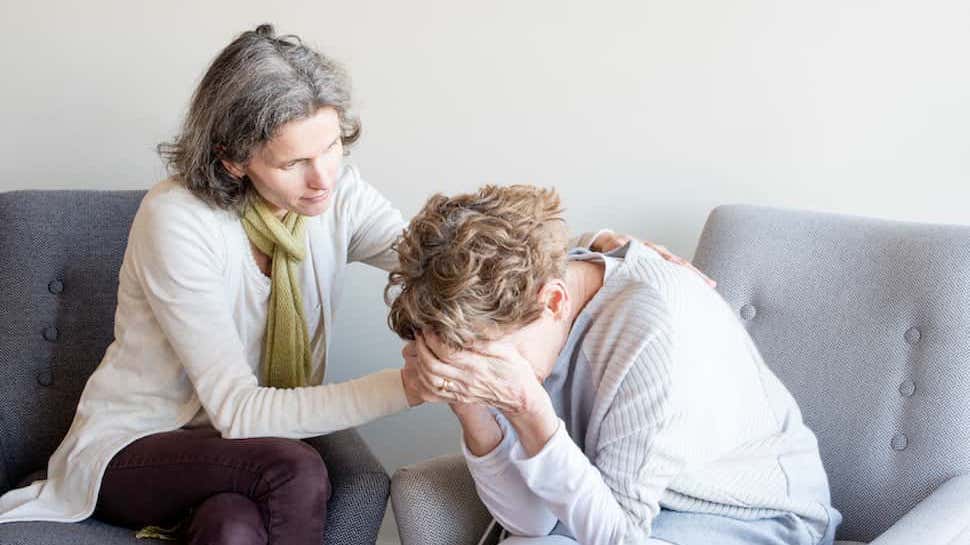 Support for Caregivers of Schizophrenics
Support for Caregivers of Schizophrenics
Caregivers of schizophrenia patients are often family members who are not trained in mental health. These individuals provide important support for their loved ones, but in doing so are susceptible to depression, stress, physical health problems, the burden of stigma, and a reduced social life. The overall quality of life for someone caring for a family member with severe mental illness suffers, but there are ways to get schizophrenia caregiver support. These include individual therapy, support groups, family education programs, and simply taking guilt-free time to take care of one's own needs.
Schizophrenia is a very serious and disruptive mental illness. Individuals diagnosed with this condition often struggle to manage symptoms, to live independently, and to cope with recurring episodes, even with good treatment. Often, one or more family members provide varying levels of support, from housing and money to managing treatments and medication. Caregiving is usually time-consuming and stressful and puts a big burden on individuals.
These caregivers need their own support, because caring for someone with severe mental illness takes its toll. Studies have found that caregivers struggle with several issues to a greater degree than those who do not care for a loved one with mental illness, including financial difficulties, physical health problems, disruption of routine and social life, stigma, stress, depression, and substance use. But caregivers of schizophrenia patients can take active steps to reduce this burden and enjoy a better quality of life.
How Caregivers Support Patients with Schizophrenia
---
Caring for someone with schizophrenia is a big responsibility. Depending on the stage of a patient's treatment and his or her response to treatment, the care and support this family member provides can range from hands-off care to nearly full-time efforts. Some of the ways in which a caregiver in the family may provide support include:
Monitoring medications
Making and going to doctor appointments
Participating in therapy sessions
Providing financial support
Providing transportation
Developing and managing a routine in the home
Communicating with healthcare professionals
Observing symptoms to identify episodes or worsening issues
Providing or assisting with good health habits, like eating well and exercising
Coping with Schizophrenia in the Family
---
In a family with schizophrenia, there is likely to be one main caregiver, but everyone is impacted and needs to learn how to cope in healthy ways. When a parent has this mental illness, episodes of symptoms can be very stressful for children. For parents of a child diagnosed with schizophrenia, there is a big responsibility to provide the right care and treatment opportunities, while also protecting the other children.
For children, family trauma of schizophrenia is a real possibility. There may be incidents that expose them to frightening situations, instability, or even violence. Children in the family may need extra attention from parents, counseling or therapy, and may benefit from participating in any family therapy sessions to learn more about schizophrenia and how to cope with negative emotions in healthy ways. Parents and older siblings may also benefit from counseling and therapy to learn how to cope with having a loved one struggle with this mental illness.
Schizophrenia Caregiver Support Education
---
One important action that can help both the individual primary caregiver, and the entire family affected by schizophrenia, is participation in a family psychoeducation program. These are programs that aim to educate people about specific mental illnesses and mental illness in general, while also providing concrete ways for families to cope and better support their loved one. Family psychoeducation provides families with support, clinical resources, better communications kills, and an expanded social network.
Research has concluded that family psychoeducation programs are effective as part of treatment for schizophrenia. When this type of program is used for families and patients with mental illness, there are fewer relapses and recurrences of symptoms, better recovery for the patient, and better overall well-being and satisfaction for everyone in the family.
Schizophrenia Treatment Doesn't Have to Be Scary
We're Here to Help
Family-to-Family Support
---
Another great way for families to get schizophrenia caregiver support is through family-to-family programs. Like psychoeducation, these programs offer a social support network, education about schizophrenia, medical, mental health and social service resources, and practical tools for families and individuals caring for someone with a serious mental illness.
The difference is that these programs are run by other families who have been through similar experiences. Each family has been trained to work with other families who are new to learning how to cope with and care for a loved one with schizophrenia. Studies have found that there are positive outcomes of family-to-family programs for both the patients and the families.
Caregiver Support Groups
---
Social support is powerful, for people in all kinds of situations, and that includes caregivers. Support groups provide a place for individuals to connect with other people who have had similar experiences and understand what they are going through having a family member with mental illness. While support from family and friends is important, these groups allow caregivers to step away from family and connect with other people.
Support groups allow people to share, get advice, and build camaraderie. Studies of the effects of support group participation on schizophrenia caregivers found that it helped significantly reduce depression and the feeling of burden associated with caregiving.
Individual Counseling for the Caregiver
---
It is important for caregivers of loved ones with schizophrenia to realize that it is not always possible to go it alone. Relying on other family members and families and support groups who have had similar experiences is crucial. It isn't always enough, though. For some caregivers the burdens of living with this role can become overwhelming and beyond what is possible to cope with in a healthy way without professional intervention.
Whether or not the caregiver is actually diagnosed with a mental illness, such as depression or an anxiety disorder, therapy can be a useful tool. Working with a mental health professional is a good way to learn how to cope in safe and healthy ways with the distress, guilt, anxiety, and other negative emotions triggered by taking care of a loved one. A therapist can be a positive outlet for expressing emotions that are difficult to talk about. A therapist can also help a caregiver learn and practice coping strategies, relaxation techniques, and other tools for improving well-being.
Hope For Schizophrenia
BrightQuest Offers Unique and Effective Treatment
Personal Care and Health
---
There is evidence from research that family caregivers of people with schizophrenia suffer higher rates than average of physical health problems and mental health issues, including depression. They often face difficult decisions for care for their loved ones for the present and the future. They may have financial struggles from trying to provide good care. They also face the stigma of having a family member with this mental illness. They may have to navigate the justice system if their loved one gets in trouble with the law.
There are a lot of factors in the life of a schizophrenia family caregiver that can impact mental and physical health. These caregivers need to take care of themselves, which can be difficult because their loved ones need so much of their attention. Things that caregivers can do to better care for their own health include:
Taking time off and using respite care for a break from caregiving duties
Doing things that are fun, without guilt
Relying on friends and family to help with household chores, errands, or direct caregiving duties
Socializing with friends and family
Joining a support group for caregivers
Using healthy stress-management strategies, like meditation and deep breathing
Maintaining physical health with adequate sleep, a good diet, a healthy weight, and regular exercise
Participating in therapy with a mental health professional if needed
Living with schizophrenia poses many challenges, both for the individual with the mental illness and the people who care for them. The entirely family is impacted and may need resources for support, but the primary caregiver is the one who carries the biggest burden. This individual is more likely to struggle with depression, with shame and guilt, and with physical health problems. He or she is more likely to make personal sacrifices to care for a loved one. This is why support for caregivers is so important. For those unsure about where to start, the treatment facility that is helping the patient can also help the caregiver, with resources, support groups, and therapy options.