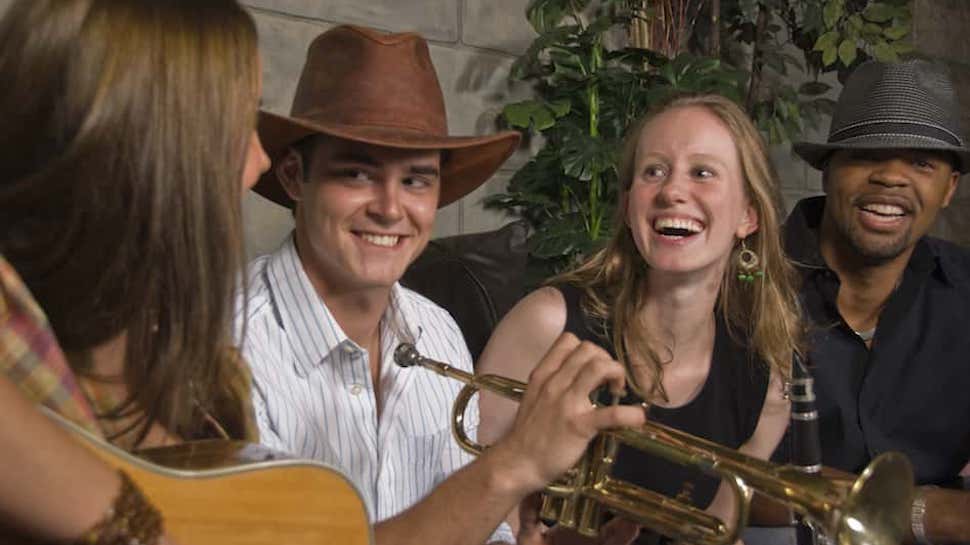 Your Guide to Nashville While in Treatment
Your Guide to Nashville While in Treatment
Our BrightQuest Nashville residential and transitional living residences are located in the Berry Hill and Sylvan Heights neighborhoods of Nashville. The access to amenities and activities within this bustling urban environment provides a unique opportunity for our clients to both learn and practice the relationship and life skills needed to become part of a supportive community in a truly unique city with so much to offer.
When one thinks of Nashville, images of the Grand Ole Opry, music, well-made cowboy boots, and creativity may come to mind. The city appeals to personalities and interests of all kinds, is easy to navigate, is filled with an abundance of activities, and possesses a friendly, positive community.
Nashville is the hub and headquarters for several corporations. It's a bustling region with individuals—many from an entertainment, athletic, music, or high-profile career—who may be in need of respite or long-term management of a mental health issue. It also provides a central location for those in areas of the country in need of the treatment we provide.
Whether you are planning to stay with us for residential treatment or are considering care for your loved one and interested in what Nashville has to offer, we want to help prepare you for this wonderful, unique city that may very well become a huge part of your new journey.
Understanding Your Needs
---
Depression, bipolar disorder, schizophrenia, schizoaffective disorder, borderline personality disorder, and any range of trauma-related disorders, can all result in a frustrating disruption to your creative and professional drive, as well as present a major disruption to your family structure and close relationships. This is why BrightQuest Nashville is dedicated to helping families like yours find the solution you're seeking. And sometimes, a new environment—a new community, a new structure—is what it may take for you or your loved one to finally start developing a sense of independence and better relationship skills.
We've been working in long-term psychiatric care for 40 years.
What this means is, we have worked with cases spanning four decades that prove that a therapeutic community is not only supportive and healing, but an opportunity for each individual to explore and identify with their true selves. Time after time we've heard, "if only we started here first." But, when it comes to mental health, there are no mistakes. It's always a process. And we understand this.
Considering Treatment at BrightQuest Nashville?
---
While progressing through the levels of our therapeutic community from our WindRose Residential Treatment House to FourWinds Semi-Independent Living, you or your loved ones are supported in learning to live cooperatively, self-manage medication and household duties, and developing and fine-tuning daily, independent living and relationship skills. Our houses are located in neighborhoods easily equipped for self-sufficient practicum and that are safe, easy to get around, and acquire all the essentials for everyday living.
Our Residential Treatment Neighborhood: Berry Hill
Berry Hill is known for its wide range of small shops and boutiques. In this artsier area of this city, you'll find eclectic shops, holistic services, recording studios, and colorful 1940s bungalows. Recommended restaurants include Monell's and Calypso Cafe.
Our
Semi-Independent Living
Neighborhood: Sylvan Heights
Sylvan Heights has had a recent resurgence of new restaurants, businesses, and restaurants. This easily walkable neighborhood boasts historic cottages and is close to plenty of bike trails, parks, grocery stores, and places to eat. Recommended area restaurants include Hugh-Baby's and Hattie B.'s Hot Chicken.
Things to Know About Nashville
---
There are boundless things to do in the area, and something for everyone. Whether you are a resident of one of our homes or a visiting family member, Nashville is a city that promises experiences that you will connect to.
What to Pack for Nashville Weather
July is the hottest month of the year with temperatures averaging about 90 degrees in the daytime. Winters in Nashville can be cold, with an average daytime low in the mid-40s in January, and snowfall is not uncommon.
Comfortable clothing
Workout clothes
Sneakers and/or comfortable walking shoes
A sweater or hoodie
Warm coat
Comfortable sleepwear
Rain gear
Light layers for summer (it's hot!)—shorts, t-shirts, etc.
Jeans
Getting Around Nashville
From the Country Music Hall of Fame and Johnny Cash Museum to the Tennessee Central Railway Museum and any number of local art galleries, plantations, museums, theatres, live music venues, there is always something to explore and discover in the city. And if you are into fitness, yoga, hiking, pottery, crafting, bowling, laser tag, etc., there is plenty to choose from.
While you're in Nashville, also keep your eyes open for the amazing murals throughout the city.
12-Step Meetings Near BrightQuest Residences
---
If you or another member of your family are looking for a 12-step meeting while in Nashville, there are many to choose from on any given day. Here are a few listings close to our residences*. To find more meetings in other areas throughout the city, please refer to Meeting Finder or aanashville.org.
12-Step Meetings Near Berry Hill
12-Step Meetings Near Sylvan Heights
*Meeting details and times subject to change. Please refer to link for most updated information.

BrightQuest Treatment Center – Nashville is accredited by The Joint Commission, which sets the standards for quality and safety of patient care.