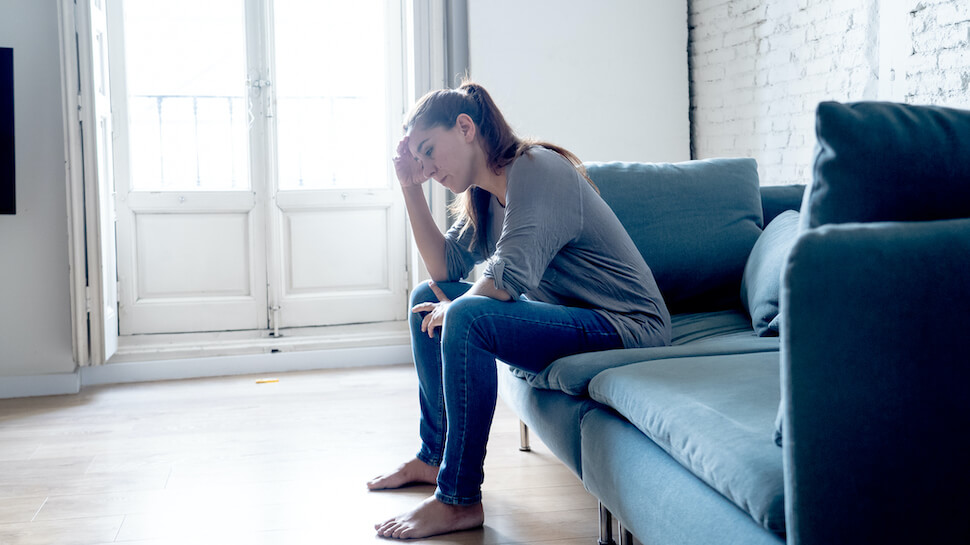 Residential Treatment for Psychotic Depression
People with severe depression may experience psychosis, a serious complication that usually requires emergency intervention. Delusions and hallucinations will accompany psychotic depression, along with other debilitating symptoms associated with depressive disorders. Fortunately, major depression with psychotic features can be overcome if comprehensive treatment services are provided. Residential treatment for psychotic depression at BrightQuest is evidence-based and highly effective, especially for clients who have the support of their families and are dedicated to the recovery process.
Psychotic Depression Treatment at BrightQuest
---
Major depression affects somewhere between 15 and 20 million Americans each year. Out of this group, nearly one-in-five will experience disturbing symptoms of psychosis, which may include delusions and hallucinations. A person who develops major depression with psychotic features will lose touch with reality and will have trouble functioning. They may be unable to handle even the simplest tasks, and their behavior may put themselves or others at risk.
Men and women with psychotic depression need extensive medical assistance, which will include treatment for their major depressive disorder along with its psychotic aspects. Residential treatment for psychotic depression at BrightQuest is administered by world-class mental health experts, who design individualized wellness plans featuring a full menu of appropriate recovery services.
BrightQuest treatment plans include:
Admissions and Comprehensive Assessment Services. Admissions procedures at BrightQuest are streamlined to ensure rapid completion, and our admissions specialists are available to answer questions and offer assistance as needed. Our mental health evaluation and diagnostic services provide comprehensive examinations to guarantee an accurate diagnosis of any and all existing conditions.
Family Involvement. Healing from serious mental health challenges requires the support and loving care of family members, who are encouraged to participate in BrightQuest treatment plans as active members of their loved ones' recovery teams.
An Inclusive Therapeutic Community and Multiple Levels of Care. Men and women with psychotic depression will receive superior treatment services in a caring and empathic community, at changing levels of care appropriate for each stage of the recovery process.
Lasting Behavioral Change. Major depression with psychotic features is a highly treatable condition, and with targeted treatment services lasting and sustainable recovery is an achievable goal.
Your family member's encounter with psychotic depression will present significant life challenges. But those challenges can be met and overcome. With our compassionate and knowledgeable assistance, a life free from depression and its debilitating symptoms is within your loved one's reach.
Symptoms of Psychotic Depression
---
Anyone with a major depressive disorder will experience symptoms familiar to such a condition. They may include:
Low energy
Feelings of emptiness
A loss of motivation
Sleeping difficulties
Changes in appetite
A disinterest in socializing or being with others
Extreme pessimism about the future or about the possibility of recovery
With psychotic depression, these symptoms will usually be experienced in severe form, leading to a break with reality that will include the telltale signs of psychosis. These signs include:
Delusions (feelings of being persecuted, in danger, or otherwise under attack)
Hallucinations (i.e., hearing voices that tell the person they are worthless or useless)
Strange, illogical thoughts about self and the world
Hypochondria
Agitation and extreme anxiety
Immobility, or complete withdrawal from social interactions
Confusion or other types of mental impairment
Sudden mood swings, possibly leading to hostile or even violent behavior
Up to 25 percent of those hospitalized for a major depressive disorder show symptoms consistent with psychotic depression, highlighting the severity of this frightening condition.
Getting Your Loved One Treatment for Major Depression with Psychotic Features
---
People who've developed a major depressive disorder may not be able to ask for help on their own. Their loss of motivation and deep pessimism may render them unable to imagine a better life. When psychotic symptoms manifest, the problem will become even worse, since men and women with psychotic depression will struggle to perceive themselves and the world accurately. They may no longer realize they need help, as they become lost in the shadows of their own confused minds.
In these circumstances, swift action is required. Your loved one should respond positively to hospitalization and eventually mental health treatment, regardless of when it is sought. But their recovery will be less complicated if professional assistance is provided immediately before their psychosis deepens.
When your loved one is ready to accept help, we are ready to accept them into our healing therapeutic community. We offer comprehensive evaluation services, emergency care, and long-term recovery programs based on the latest evidence-based practices. Our clinical team is trained to identify and treat major depressive disorders and mood disorders of all types, along with any co-occurring conditions that might have developed.
It is common, for example, for men and women with depression to have a history of anxiety disorders and substance abuse. If these or other conditions are present, the members of your loved one's treatment team will design an integrated residential treatment plan that targets all existing symptoms and disorders.
Family Involvement in the Psychotic Depression Treatment Process
---
Sustainable healing from depression and other mental health disorders is best achieved when family members are around and engaged in the recovery process. In recognition of this important fact, BrightQuest offers the following options for family participation:
Family therapy. Treatment plans at BrightQuest include family therapy in addition to individual and group therapy. During stimulating and uplifting group sessions, you'll support your loved one's recovery program with empathy and unconditional love, while also working through any family issues that may have contributed to the development of their depression.
Biweekly educational groups. In virtual group meetings held every other week, you'll learn more about psychotic depression and any other mental or behavioral health problems your family member has encountered. These educational sessions will empower your ongoing efforts to support your loved one's healing journey.
Multi-family support groups. Every other month at our San Diego and Nashville facilities, we sponsor lively support group meetings for family members who seek to make connections with others facing the same challenges. These enlightening sessions will put you in touch with empathetic peers who have important insights to share.
The BrightQuest approach to recovery from psychotic depression is compassionate and inclusive. Working together, we'll co-create a healing team of experts and compassionate supporters who will motivate and inspire your loved one to strive for wellness.
Why Choose BrightQuest for Psychotic Depression Treatment?
---
Psychotic depression is a severe mental health disorder that requires intensive, evidence-based treatment services—which is exactly what we offer. BrightQuest facilities provide access to world-class mental health experts who have extensive experience treating major depressive disorders and other psychological and behavioral health issues.
Your BrightQuest Treatment Centers Experience
Our facilities in San Diego and Nashville are located in quiet areas where your loved one will enjoy a serene and tranquil healing experience. Their treatment plan will be carefully customized to offer comprehensive and appropriate treatment services, in a kind and caring atmosphere where unconditional support is guaranteed.
At BrightQuest, residential treatment for psychotic depression a mixture of effective services including:
Transformative individual, group, and family therapy sessions
Monitored administration of antidepressant and antipsychotic medications
Educational and vocational classes and services
Instruction in living skills and coping skills development
Specialized programming to complement treatment plans and help deepen the commitment to personal transformation
While our mental health professionals are highly trained and knowledgeable, it is their empathic approach that sets them apart. Your loved one will be in the best of hands when you trust them to our care, and they will feel comfortable and accepted as they work through their mental health issues one day at a time.
BrightQuest Levels of Care for Psychotic Depression
Psychotic depression includes a multiplicity of symptoms that take time and special care to treat. At BrightQuest, we tailor our treatment programs to meet each client's unique needs, regardless of the nature or severity of their condition. Our ultimate goal is to help them recover from their mental health struggles, but in a way that equips them with effective coping mechanisms that can prevent future recurrences.
To facilitate thorough and effective healing, we offer different levels of care appropriate for different stages of recovery. The options include:
24-hour Residential Treatment. At BrightQuest, we provide clinical facilities for those who need emergency treatment for major depression with psychotic features. Initial interventions may include intensive therapy plus the administration of antidepressants and/or antipsychotic drugs, with usage being carefully managed on a 24-hour basis by trained medical professionals. The goal of intensive residential treatment is to help our clients achieve mental and emotional stability, after which they will be ready to move on to formal treatment.
Semi-Independent Living. After completing intensive residential treatment, your loved one will be transferred to a semi-independent living facility, located near the BrightQuest campus. While sharing a comfortable home with other clients, your loved one will receive a full menu of treatment services, including individual, group, and family therapy, and complementary wellness services that will introduce them to healthier living practices.
Independent Living. Our comprehensive mental health treatment programs are designed to help our clients become independent and self-sufficient, which is a critical element of their long-term recovery. With continued improvement and a dedicated approach to healing, your loved one may earn the opportunity to enter our independent living program, where they will continue to receive treatment services while living in an unsupervised environment.
Extended Services. After treatment ends, your loved one may continue receiving therapy and other healthcare and personal development services through a comprehensive aftercare program.
It can take a year or more to complete a BrightQuest treatment plan, which is a testament to our in-depth approach to recovery. Your loved one will leave our facilities feeling refreshed in mind, body, and spirit, ready to embrace opportunity while living their lives to the fullest.
The BrightQuest Therapeutic Community
Long-term wellness is everyone's focus at BrightQuest. Our skilled treatment professionals, caring staff members, and recovering clients are all unified in their quest to create an atmosphere that is calm, welcoming, and fully supportive of each person's path to good health.
At BrightQuest, your loved one will be motivated to change by their immersion in a warm and loving environment that promotes self-empowerment and independence.
Our residential treatment program for psychotic depression can have a profound impact on your loved one's life. Under our careful guidance, they will learn to manage their symptoms of depression and regain their health and autonomy.
If your loved one is suffering from psychotic depression, contact us today.